Development & Membership Director
eedwards@tinyc.org | 646-292-9466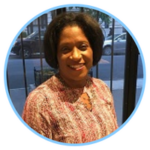 Eugenia James Edwards is our Director of Development. Eugenia enthusiastically returns to Temple Israel after having served the congregation from 1994 to 2011, working with three of the congregation's esteemed Rabbis. She served in a variety of capacities most recently as the previous Membership Director, welcoming new congregants to our family of families.
In 2011, Eugenia joined the staff of Habitat for Humanity of Greater Newburgh as their Fund Development Manager. At Habitat Newburgh, she worked to reorganize development efforts — creating functional systems for a robust fundraising program that includes financial support from individuals, foundations and government sources. In that role, Eugenia also worked with several faith communities, service and community groups, advocating for the need for decent and affordable housing.
Eugenia is a graduate from Hunter College with a B.A. in English and is completing a Masters degree in Public Administration. She has served as the Diversity Committee co-chair for the Mid-Hudson Valley Association of Fundraising Professionals. Eugenia currently resides in NYC with her twins, Rebecca and Ryan.
« Get to know more of our team