cantoraltshul@tinyc.org | 646-292-9486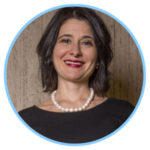 Cantor Altshul was born in St. Petersburg, Russia but spent her formative years in Israel and came to New York City as a graduate college student. There she was drawn into synagogue life through her love of Jewish music.
Since her cantorial investiture in 2003, Cantor Altshul has served on the clergy team of Temple Israel of the City of New York and as the first invested Cantor at Northern Virginia Hebrew Congregation in Reston, Virginia from 2007 to 2014. She holds a Master of Sacred Music Degree and cantorial investiture from the School of Sacred Music of Hebrew Union College-Jewish Institute of Religion in New York. In addition to her studies in Cantorial school, Cantor Althsul holds a Master's Degree in Music from Brooklyn College and a Bachelor Degree in Music from Tel Aviv University.
A trained mezzo-soprano, her performance experiences have included appearances with the Russian Chamber Choir, the New York Brooklyn College Opera Theater, the Haifa Symphony Orchestra, Israel, the Jerusalem Symphony Orchestra, Israel, and the Tel-Aviv Philharmonic Choir, Israel. Cantor Altshul was also twice invited to sing at The President's Residence in Jerusalem.
In addition to her work in enriching the worship life of the Jewish community, Cantor Altshul partners with other synagogue professionals as a team, teaching adults and youth, performing life cycle events, making pastoral visits and being available to all people. "Surely music is a big part of what I do," Cantor Altshul believes, "But it is being with people, helping someone in need that is equally, if not more important to me."
Cantor Altshul is an active member of the American Conference of Cantors. She and her husband, Dr. Mitya (Dmitri) Chklovskii PHD and their children, Sammy and Mark Chklovskii reside on the Upper East Side.
« Get to know more of our team