Temple Israel of the City of New York is home to a strong, caring and highly active congregation. At the same time, maintenance and operational costs to support our aging facility continue to escalate at an alarming rate.  We are mindful of our status as a contributing building in the Upper East Side Historic District as an important example of the Brutalist architectural movement of the 1950s and have dedicated ourselves to the preservation of our building, however, this effort has not been without mounting costs. We also recognize our obligations to our congregants, including our Early Learning School children, Religious School students, our staff and our guests, and to the community to create a healthful, comfortable and inviting environment within the building.
Temple Israel is excited to move forward with a renovation project that will allow us to meet our increasing congregational needs, help us fulfill our future aspirations and support future generations of Temple Israel members and community.
Our plans specifically call for:
Transforming our historic sanctuary to promote flexible seating, energy efficient climate controls, lighting, and AV systems

Fortifying our entrance with state-of-the-art security enhancements

Enclosing the current front courtyard for both security and functional purposes

Upgrading mechanical systems, lighting and elevators that will reduce our carbon footprint

Replacing existing windows
Temple Israel has been granted permits to conduct work during off hours. While this may be an inconvenience to our neighbors, this will allow us to accomplish work faster and move on to other areas. We appreciate your patience and flexibility.
Thank you for your continued patience and flexibility during our renovation. Updated progress pictures coming soon!
November 2022
Monday, November 7 though Wednesday, November 16 construction work will be done on the Temple Israel roof. We understand this will cause an increase of construction noises outside of the building. Work will only be conducted from 7am to 6pm as allowed by the DOB.
September 2022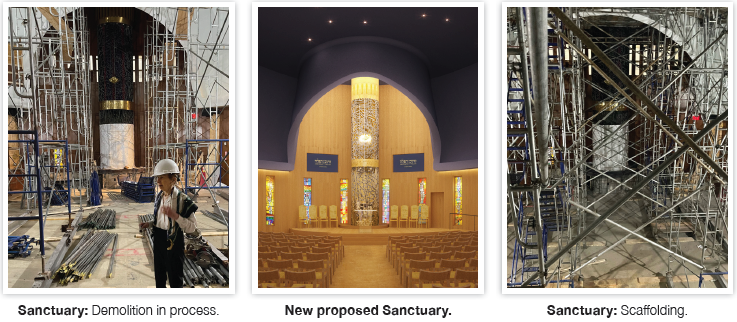 The dramatic renovation of our Main Sanctuary continues forward. An intricate maze of scaffolding has been erected to begin the process of replacing our Sanctuary ceiling. We were thrilled to welcome long-time member Ruth Hirsch (pictured above) to witness this history-making moment. Please know that although spaces in our building are under construction, Temple Israel continues to be open to all of our members and friends and we look forward to greeting you in person.
May 2022
Initial work includes closure of a portion of the courtyard and interior work in the courtyard. Our Lexington Avenue entrance will be closed temporarily. The entrance closest to Park Avenue is open for use.
FREQUENTLY ASKED QUESTIONS
We hope to keep to this expected schedule but will keep you updated if there are any unexpected delays in our plans. Check back to this page for detailed updates on the construction timeline as they become available.