Czech Torah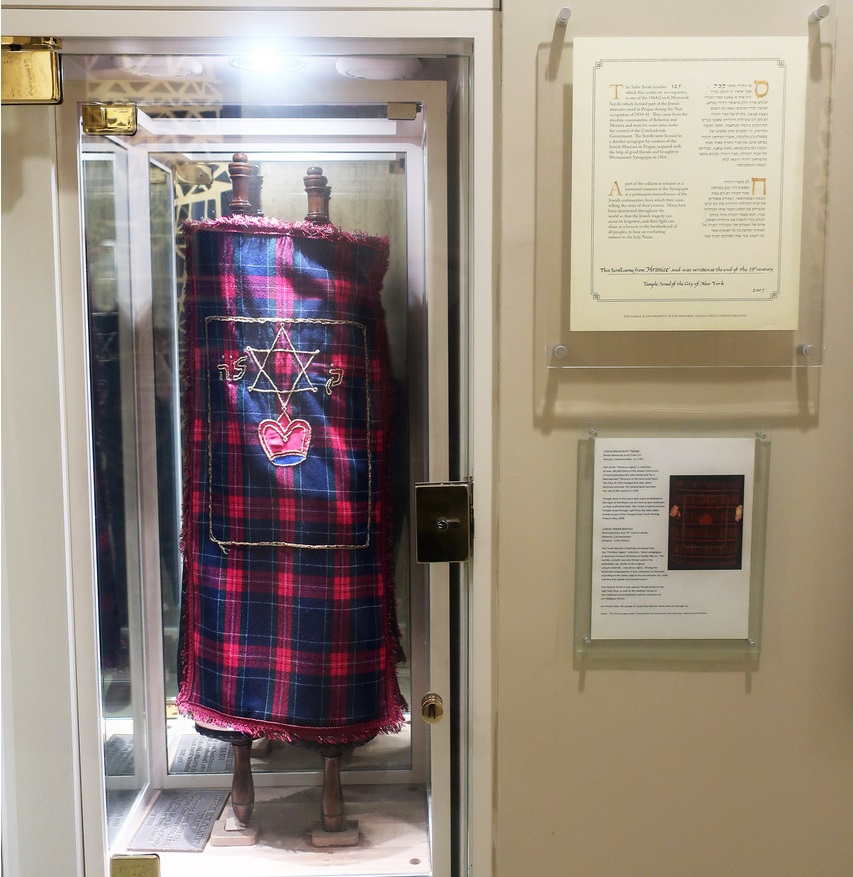 The Sefer Torah number 125, which this certificate accompanies, is one of the 1564 Czech Memorial Scrolls which formed part of the Jewish treasures saved in Prague during the Nazi occupation of 1939-1945. They came from the desolate communities of Bohemia and Moravia and were for some time under the control of the Czechoslovak Government. The Scrolls were housed in a derelict synagogue by curators of the Jewish Museum in Prague, acquired with the help of good friends and brought to Westminster Synagogue in 1964.
A part of the collection remains in a memorial museum at the Synagogue as a permanent remembrance of the Jewish communities from which they came, telling the story of their journey. Many have been distributed throughout the world so that the Jewish tragedy can never be forgotten, and their light can shine as a beacon to the brotherhood of all peoples, to bear an everlasting witness to the Holy Name.
CZECH HOLOCAUST TORAH
British Memorial Scroll Trust 125
Hranice, Czechoslovakia, ca. 1760
Part of the "Precious Legacy" a collection of over 100,000 items of the Jewish community of Czechoslovakia that were being held for a Nazi-planned "Museum of the Destroyed Race." The Pact of 1938 changed that plan when Germany annexed the Sudetenland and then the rest of the country in 1939.
Though most of the Czech Jews were annihilated in the night of the Shoah, we are here to give testimony to their unfinished lives. This Torah is held in trust by Temple Israel through a gift from the Allen Adler Family as part of the Temple Israel Torah Writing Project; May 2008.
CZECH TORAH MANTLE
Recreated from late 19th Century design
Bohemia, Czechoslovakia
Designer: Clare Ohland
This Torah Mantle is faithfully recreated from the "Precious Legacy" collection. Many synagogues in Bohemia received donations of textile folk art. The textiles, metallic lace and thread used in the embroidery are similar to the original, unique materials. Among the Bohemian congregations it was customary to decorate according to the cloths used at the circumcision of a child and thus this special and unusual cover!
This historic Torah is now used at Temple Israel on the High Holy Days, as well as the Shabbat closer to Yom HaShoah and Kristallnacht and for education in our Religious School.
Am Yisrael Chai, the people of Israel lives and the Torah lives on through us!
More information on Czech Memorial Scrolls can be found here.