Let The Sun Shine In!
Rabbi David Gelfand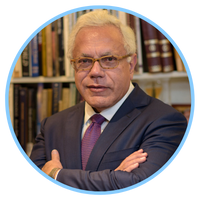 As the summer's warmer days and brighter evenings are with us, it's time to relax, read, reflect and refresh ourselves and hopefully feel reinvigorated and ready to find time for ourselves, family and friends over the summer weeks and months. Rabbi Arthur Lelyveld, z"l, taught me, and used to remind our students as summer dawned, "Read a new book, make a new friend and think a new thought." That's true for all students of life! Let's find time to grow our minds, ever expand our relationships, and be open to new possibilities.
As a rabbi, I am always committed to each of these paths for it is only in real living that we can grow and thrive. This is true for me personally, but also as a teacher, mentor, healer and leader. It has surely been true during these years of Covid, and now this past year with the beginning of the dramatic renovation and transformation of Temple Israel for today and tomorrow. It's made
me reflect on who we are as a kehillah kedosha, a sacred community, and as a family of families, standing on the shoulders of those who came before us, even as we live for today and plan for tomorrow.
We have all heard people say that "religion" is either too expensive, or simply expendable. But would we ever take seriously such comments as "I believe in medicine, but I don't believe in medical schools or hospitals." Or, "I believe in law and justice, but I just don't believe in law schools, courts and police." Or, "I believe in art and beauty, but not in museums."
"Let them build me a sanctuary so that I may dwell among them "so Torah teaches us from over 3,000 years ago. This was the first effort to "organize" our people and our religion.
What purpose do our synagogues serve? The synagogue creates the ideal Jewish setting for prayer and spirituality. We have the opportunity and privilege to reflect and seek that which is noblest within ourselves as we attempt to search for a spiritual path and for God. In a noisy, frightening world, it enables us to pause periodically to listen to the "still, small voice within us." Our new Chapel and Sanctuary will provide us with beautiful spaces to let our songs and our prayers soar to the heavens.
The synagogue provides us with a place for community, for young and young at heart, to the energetic and tired souls, for spiritual seekers and rationalists, for serious Jews and secularists, for Zionists and globalists, for political animals and cultural junkies, for Jews and those who live with us. It is the recognized address of the Jewish community and a place for meaningful Jewish connections.
The synagogue effectively transmits the teachings of the sages and the visions of the prophets, the poetry of the psalmists, the prayers of the kabbalists and the melodies of the sweet singers of Israel, our Cantors.
Learning and living meaningfully is a lifelong pursuit. The synagogue is the strongest force for Jewish continuity. Through the seasons of the years and the life cycle of each of us, it continues to creatively nourish our will to survive with purpose and hope, as well as to provide joy in living vibrant Jewish lives.
The synagogue raises to the loftiest significance the great milestones from birth to death by clothing each one of us in the warmth of sacred words, touching melodies and hallowed rituals. In community we can share such precious occasions and life-affirming moments.
The synagogue nurtures a caring community for Jews and those who live among us who take Jewish living and values seriously helping us to see the world through Jewish eyes and providing us with guidance, comfort and inspiration. Through community and caring, Judaism is kept alive and we are enriched, no matter what our personal background and our own baggage.
The synagogue is a health insurance plan. Skeptics beware the Center for Corporate Health: "Research shows that just being a member of a… church or synagogue drastically cuts the risk of early death. It protects against heart disease even in persons with high blood pressure or other risk factors." Your health and the health of the Jewish people depends upon your commitment! (My Grandpa Max knew; a regular shul goer, he lived a healthy life until his late 90's!)
As your Rabbi, I want to share with you our memories and our texts, our prayers and our hopes. Let us journey together and build a strong foundation upon which to share our joys and to feel secure when we confront life's storms. Here at Temple Israel, there is time and a home for your spirit!
Let us share with one another in our soon to be NEW Temple Israel. Know that we want you and need you to be with us as we, like those who came before us for thousands of years, seek to travel towards a Promised Land. We are covenanted partners on an amazing, sacred journey, sometimes mundane and sometimes holy. Whether young or old, seasoned or novice, seeker or scholar, we are a warm, inclusive, pluralistic and caring family of families. Temple Israel of the City of New York can be a home for you and your spirit!
May the warmth and beauty of Summer 2023 bless you. May we share our searching and our blessings with one another so that we will come to understand that …ultimately, our sacred community keeps alive and articulates our most important values and our most treasured memories, our most fervent prayers and our most cherished hopes. Let the sun shine in!
---