Welcome Rabbi Leora Londy-Barash
Rabbi Leora Londy-Barash
Visiting Israel Rabbinic Fellow, February 16 – March 4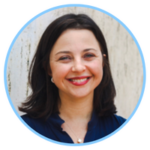 We are honored to welcome Rabbi Londy-Barash in partnership with HUC-JIR, Jerusalem in the John & Suzanne Golden Hanassi Rabbinical Fellows Program. The program brings Israeli rabbis and future rabbis to the US for two visits of two weeks each to be mentored by an experienced Senior Rabbi.
The goals of the program are to:
Expose Israeli future rabbis to American Reform congregations and Jewish communal organizations to enable and nurture a strong, lasting connection to North American Reform Jewish life.

Strengthen their skills in community building, congregational management, board relations, and fundraising.

Introduce Progressive Judaism in Israel to Reform congregations and Jewish communal organizations, strengthening interest and support for Israel.

Facilitate encounters in formal and informal settings that foster open communication between Israelis and American Jews, providing an opportunity for developing enduring friendships.
During her time at Temple Israel, Rabbi Londy-Barash will:
Participate in Shabbat Services and Torah Study.

Get to know an American congregation as a window into the American Jewish Community.

Share her love of Israel with our Religious School, ECLC, and entire congregation!
About Rabbi Leora Londy-Barash
Raised in the United States in a Conservative, egalitarian, and Zionist home with two clergy parents, alumni of Hebrew Union College-Jewish Institute of Religion. Her deep love for Judaism and for the Jewish people inspired her, upon finishing high school, to move to Israel to immerse herself in its richness and the complexity. She attended the Nativ gap year program, where she studied at the Hebrew University in Jerusalem, and then went on to complete a B.A. in Government and Diplomacy Studies and Middle Eastern Relations at the Interdisciplinary Center in Herzliya (Reichman University.) Leora has an M.A. in Jewish Studies from Ono Academic College. She is also a graduate of HUC-JIR's Sugiyot Chaim bibliotherapy program. She was introduced to the Reform Movement in Israel through her work at the Israel Religious Action Center, where she learned about Israeli society on a grassroots level and the immense potential and need for religious and societal change. She further pursued this kind of grassroots work while studying for a teaching certificate at Levinsky College of Education through the Hotam-Teach First Israel program, where she found and cultivated a passion for education and community work that has carried into her rabbinical work as well. Leora found a community and religious progressive home in the Beit Daniel congregation in Tel Aviv. She began working at the Daniel Centers for Progressive Judaism in 2016, where has worked as the community coordinator, Director of Family Education, and the rabbi of its Kehillat Tiferet Shalom community, where she continues to work closely with families of B'nei Mitzvah. She is a published writer and is passionate about creating community through a ritual and spiritual framework and in working in the field of mental health. She lives in Givataim with her partner, Omer, and their three young children.
Her father, Rabbi Alan Londy, served as our Rabbi-Educator, 2006 – 2011!
---