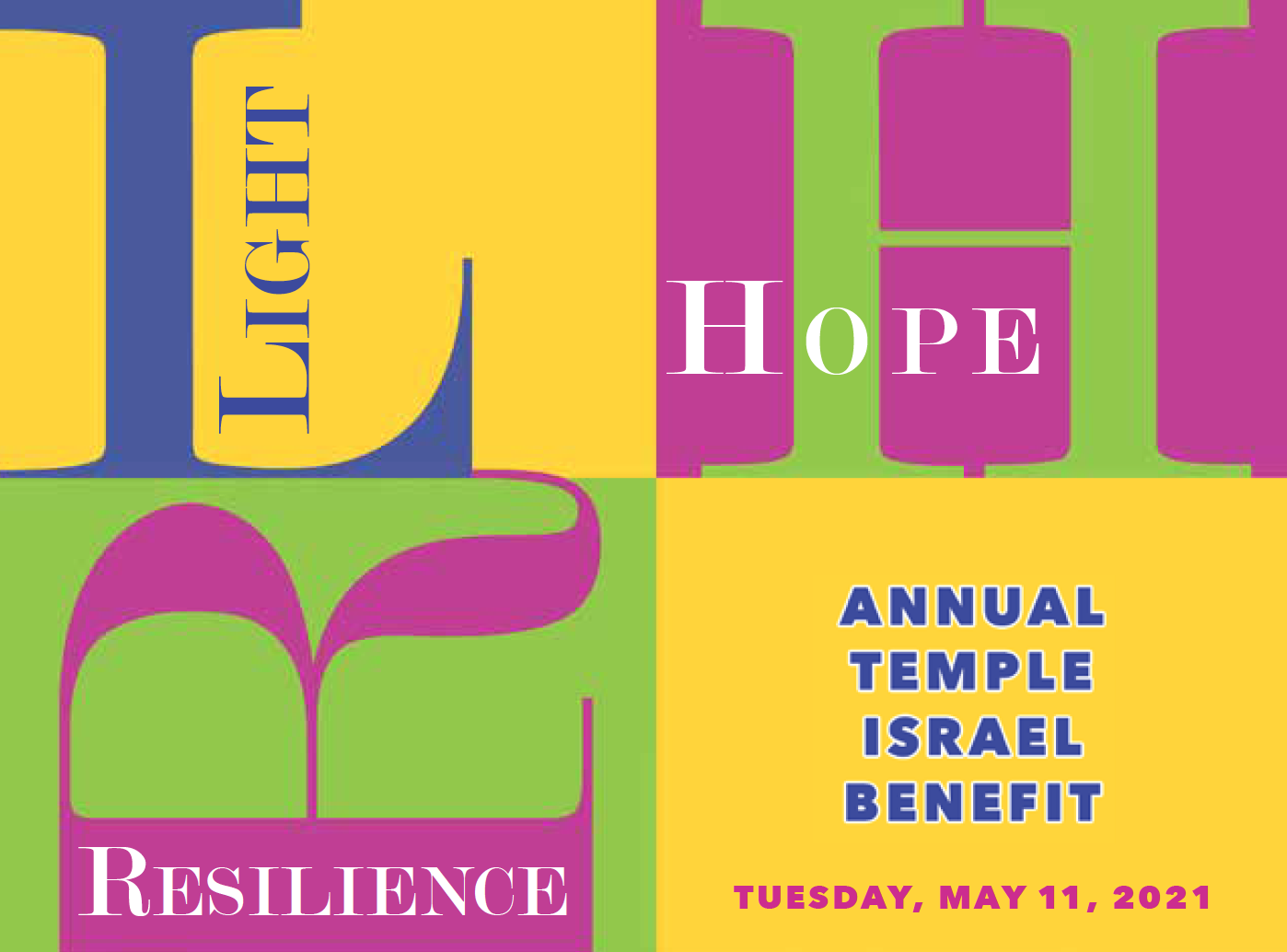 RESILIENCE, LIGHT, & HOPE ARE HALLMARKS OF OUR 150-YEAR SYNAGOGUE'S HISTORY
We are thrilled to invite you to join us for a virtual celebration of our sacred "family of families" on Tuesday, May 11 from 6:30-7:30pm. Mark your calendars for this heart-warming, entertaining, and joyous hour!
While the pathway towards normalcy brightens each day, we know that the financial constraints of this pandemic are not behind us yet. As a community, we have faced the challenges of the past.
Please consider becoming a Benefit sponsor.
Visit TI's 2021 ANNUAL BENEFIT WISHLIST
We are grateful for your extraordinary and ongoing support of Temple Israel.
Please contact Eugenia Edwards at eedwards@templeisraelnyc.org or 646 292-9466 with any questions.
Dr. Logan Levkoff, Michele Littenberg, Mark Shankweiler
2021 Annual Benefit Co-chairs
THANK YOU TO OUR
2021 ANNUAL BENEFIT SPONSORS
(as of 5.11.21 – In Formation)
PLATINUM
Johanna & Lief Rosenblatt
GRAND PATRON
Allison & Howard Lutnick
Daryl & Steven Roth
Barbara Seril
CHAI
Bari & Neil Goldmacher
Eleanor & Howard Morgan and Danielle & Kevin Koplin
GOLD
Carrie & Leigh Abramson
Adrienne Brecher
Margaret & Aaron Casden
Michele & Martin Cohen
Gwen Fisher
David Fiszel
Harriet & Ashley Hoffman and Lisa & Andrew Hoffman
Michele & Michael Littenberg
Ornella & Robert Morrow
SILVER
Frances Beatty & Allen Adler
Women's Leadership Council
Dr. Diane & George Fellows
Jodie & Andrew Fink
Bonnie & Andrew Jonas
Judy & Ken Kloner
Jane & Dr. Richard Kresch
Marvin Krasnow, Rena Krasnow & Dr. Robert Marx
Amy & Scott Landis
Carole & Harvey Mallement
Francine & Rob Neu
Elizabeth & Kyle Owens
Leslie & Michael Rikon
Sylvia & Albert Safer
Joan & Jerome Serchuck
GARNET
Linda & David Altshuler
Beyer, Blinder, Belle Architects
Frances Frawley
Kathy & Rabbi David Gelfand
Heather Getman
Ruth Hirsch
Melissa & Marc Karetsky
Judy & Stanley Katz
Carol & Steven Kosann and Jennifer & Michael Garelik
Robert de Rothschild
Tara & Mark Shankweiler
Kathryn & Dr. Steven Spandorfer
Moira & Leonard Zelin
Zubatkin Owner Representation
PATRON
Deborah & Evan Azriliant
Barbara Berman
Cantor Irena Altshul & Dmitri Chklovskii
ECLC Parents Association
EisnerAmper
Sylvia & Robert Elman
Rosalind Freidus
Valerie Russo & Marc Freud
Donald Gershuny
Rachel & Richard Greenfield
Intrinsic Technology Group
Gaby & Mark Lehrer
Susan & Steven Levkoff
Stacey & Howard Markman
Judy & Stuart Mencher
Jacqueline & Dr. Douglas Monasebian
Anat & Joshua Peirez
Riverside Memorial Chapel
Eleanore & Eugene Schloss
CONTRIBUTOR
Hilary & Jeffrey Auerbach
Madeline & Stephen Barkin
Marjorie Cohen
Anthony Coles
Dr. Logan Levkoff-Cortes & Louis Cortes
Pamela & Elliot Czerwin
Eugenia Edwards
Suzanne & Andrew Fondiller
Bari Chase & Daniel Kalin
Carole & Mark Kaufmann
Andrea Chase & Kenneth Kirschner
Richard Leder
Francine Levine
Nancy & Jay Lisnow
Nancy Miller
Linda & David Morel
Alex & Jeffrey Price
Rabbi David Reinhart
Tsvia Rosenthal
Carole Ross
Ingrid Jean-Baptiste & Michael Rutolo
Lisa Samick
Arnold Sollar
Alice Stephens
Dr. Felice & Samuel Sussman
Rabbi Melissa Buyer-Witman & Michael Witman