Musical Artist in Residence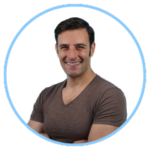 Sheldon Low is one of the most widely recognized names in contemporary Jewish music and pop-folk today, performing over 100 concerts, 'Light Up Shabbat' services, seminars, and Artist-in-Residency weekends in Jewish communities throughout North America each year. 
Of his more than 10 commercial releases, Sheldon has sold over 100k albums worldwide and he has received multiple placements in film and television such as the hit Netflix series, "Startup."  Sheldon's single "If All of The World" was selected for Ruach 5783 marking his 5th feature in the series.  He also holds the distinction of being the only artist with opening tracks on two different albums (Ruach 5767, Ruach 5775).  Over the course of his career, Sheldon has been featured on the cover of L'chaim Magazine, Shalom TV, and satellite and terrestrial radio stations across North America. 
Sheldon often collaborates with his wife, Hadar Orshalimy, writing and performing under the artist names "Hadar and Sheldon" and "We Are The Northern Lights."  Notable performances include the Friday morning plenary of the 2019 URJ Biennial.  
In April of 2020, the duo co-created, produced and performed Yom Ha'atzmaut Across North America, a nationwide streaming benefit concert in celebration of Israel's Independence Day.  The concert returned in 2021, for audiences in more than 110 communities around the US, Canada, and Israel and to date has raised more than $42k for IsraAid, Feeding America, Mazon, and Mazon Canada.
In addition to performing and recording, Sheldon is the creator and host of Jewish Songwriter, a podcast devoted to the people and stories behind contemporary Jewish music.  He helped launch Jewish Rock Radio, served as a founding head faculty at Songleader Boot Camp, and continues to lead workshops, webinars, and featured speaking engagements around the country.  Sheldon is also a published author and the creator of the "Musician Revolution" blog.  
Born and raised in St. Louis, Missouri, Sheldon is a third generation songleader who from an early age developed a strong Jewish identity attending Hyman Brand Hebrew Academy, Solomon Schechter Day School, Camp Ben Frankel, and USY. In high school, Sheldon was fortunate to meet and be mentored by national touring Jewish musician, Rick Recht. In 2005, Sheldon graduated Magna Cum Laude with a BS in Mechanical Engineering from Tufts University and spent nine months working as an engineer before being signed to Jewish Rock Records. Sheldon spent six years as the Artist in Residence at Barnert Temple in Franklin Lakes, New Jersey and is currently the Artist in Residence of Temple Israel of the City of New York. In 2013, Low started Hallelu Records, an independent record label based in New York City. 
Sheldon lives in New York City with his wife and daughter.  Learn more:  SheldonLow.com, WeAreTheNorthernLights.com
« Get to know more of our team